Major technical equipment development has repeatedly broken through China's efforts to create big things>
While many people are still screaming at the global shelves of Chinese-made clothing, shoes and hats, and daily necessities, China has begun to make "big things".

Recently, the 100th top drive produced by Beijing Petroleum Machinery Factory was successfully delivered. Since January 2003, the Beishi Plant has completed the development and sales of 100 top drives in only four and a half years, creating a miracle on the road of large-scale drilling equipment industrialization. Top drive is one of the major frontier equipments in the world's oil drilling engineering industry, representing the highest level of oil drilling equipment. Before the industrialization of "North Stone Drive", China's top drive has always relied on imports.

Since the promulgation of the "Several Opinions of the State Council on Accelerating the Revitalization of Equipment Manufacturing Industry" in June 2006, China's major technological equipment development has repeatedly broken through, and "big things" have emerged one after another.

In July 2007, the first domestically produced 700,000 KW hydropower unit of the Three Gorges Project, which was manufactured by Harbin Electric Machinery Factory, was officially put into operation. China's hydropower equipment entered the era of independent research and development; in June, the first domestically produced domestically produced million of Huaneng Yuhuan Power Plant After the successful operation of the kW super-supercritical unit, the main technical indicators tested have reached the international advanced level. In April, Shenyang Blower (Group) Co., Ltd. and Sinopec Tianjin Branch signed a million tons/year ethylene plant cracking. The combination of gas compressors marks the beginning of China's core components of a million-ton ethylene plant...

Experts here said that China's accelerated development of equipment manufacturing industry is based on internal needs. As an important carrier of high-tech industrialization, the revitalization of equipment manufacturing industry will vigorously promote the development of information technology, nuclear technology and space technology. On the other hand, it is also of external pressure. In the context of the "China threat theory" continues to heat up, and the United States and other countries are constantly upgrading their high-tech regulations in China, if China does not rely on independent innovation, it has key technologies and equipment. The breakthrough will undoubtedly be in a very passive situation.

In the past two years, Chinese officials have given full policy support to the accelerated revitalization of the equipment manufacturing industry. The "Several Opinions of the State Council on Accelerating the Revitalization of the Equipment Manufacturing Industry" stipulates that national key projects for ordering and using the first (set) of domestically produced major technical equipment may be prioritized. In April this year, the Ministry of Finance and other four ministries and commissions issued a notice to impose a pre-return on the import tariffs and the value-added tax on imports of key components and raw materials imported by domestic enterprises for the development and manufacture of related equipment.

In addition to policies, the current development of China's equipment manufacturing industry is also plagued by favorable factors such as the transfer of foreign equipment manufacturing industry to China and the continuous improvement of domestic enterprises' independent innovation capabilities.

Up to now, China's power equipment has formed a relatively complete manufacturing system; metallurgical equipment has been able to provide a complete set of conventional process equipment with an annual output of 8 million tons of steel joint enterprises; the annual self-production rate of large-scale refinery equipment with an annual output of 10 million tons reaches nine Cheng; many high-end CNC machine tools and industrial process automation control systems have been installed on the "Chinese core."

However, experts have warned that at present, although China has made progress in creating "big things," it is still in its infancy. For example, high-end products such as fiber optic equipment, integrated circuits, and high-end medical equipment still rely on imports, and Chinese people have not yet mastered core technologies.

Excavator Undercarriage parts

Excavator Undercarrige Parts Including : track roller assy, roller assy, idler assy, idler adjust assy, shoe assy, track link assy, bolt, track guide, sprocket.,Filter, seal, repair kit. Cylinder, boom, arm, bucket, seal repair kit.Others: pipe, hose, hydraulic tank, fuel tank, radiator assy, mudffler assy, coupling, screw, nut, grip assy, lever assy, pedal, cab assy and spare part, wiper arm assy, glass, wiper assy, seat assy, bonnet, slewing ring assy, swing bearing assy, boom assy, arm assy, link assy, bucket assy, side cutter, tooth assy, adapter.

We are a professional manufacturer that is specialized in producing undercarriage spare parts for Excavator, Bulldozer and other construction machines.

Applicable model:for Caterpillar,for Komatsu, Hitachi,Deawoo

Hyundai, Kobelco, Samsung, Sumitomo, Volvo and so on.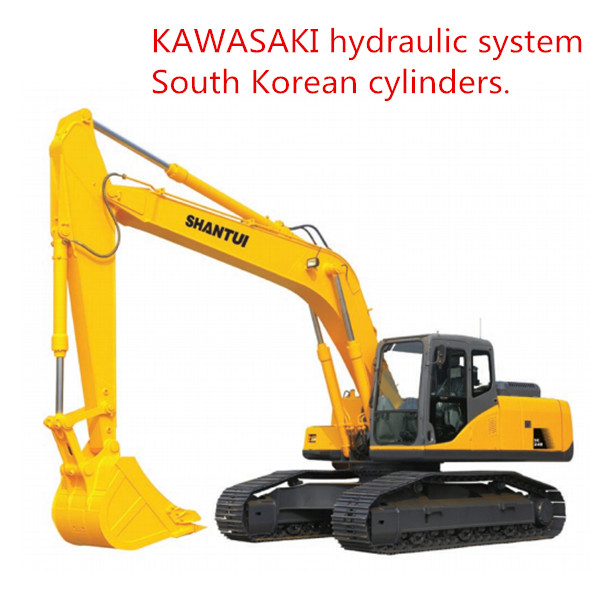 SE240 SE220 Excavator Undercarriage Spare Parts For Shantui Excavators

Another Excavator Parts We also Supplied.

Excavator parts: Excavator Engine Part, Excavator Undercarriage Parts, Excavator Final Drive , Excavator Main Valve , Excavator Hydraulic Pump.




Excavator Undercarriage Parts

Excavator Undercarriage Parts,Undercarriage Parts,Excavator Undercarriage,Excavator Undercarriage Chassis Spare Parts

Jining Kunpeng Construction Machinery Equipment Co., Ltd , https://www.excavatorenginepart.com