Tower Type Concrete Mixing Station Power Mixer Concrete Mixer Machine>
Model NO.: HLS60 HLS90 HLS120 HLS180 HLS240

Certification: ISO9001: 2000, CE

Condition: New

Color: Blue

Theoretical Productivity (M3/H): 240

Trademark: JIANKE

Transport Package: Nude Packing

Specification: dimension: 53000*27000*13000mm

Origin: China

HS Code: 84743100

1.The price can be negotiated(Please leave a mailbox so that we can send you a working video)

2.Processing performance and features

      Our Concrete Mixing Plant consist of aggregate batching machine, aggregate lifting system, aggregate temporary storage hopper, powder material storage and conveyor, liquid storage and conveyor, measuring system, mixing equipment, supporting rack, outer packaging, control room, pneumatic control system, electrical control system, dust removal system and other components.

1). Our product is suitable for medium-sized or large construction such as water and electricity project, roads, docks, bridges construction, high-speed railway projects, large, medium-sized precast factory and commercial concrete production plant.

2). As large electromechanical integrated equipment to store, measure, transport and mix concrete aggregate, powder and liquid material, it could mix various concrete, especially dry hard concrete.

3). The aggregate material is transported by inclined belt conveyor feeding. The belt can be selected from different types such as small- angle belt, herringbone belt and large- angle groove belt according to the site layout.

4). The external in the control room is covered with color sandwich plate to offer environmental friendly performance. The standalone operation room with large size windows and doors could facilitate observation of mixer truck. Heavy- dusty frame steel structure provides a good overall stability. The large operation room is easy for maintenance, while negative pressure dust removal system is used in main mixing equipment. Integral sealing is also used in the head of belt conveyor.

                                                 

6). Our mixing plant utilizes microcomputer control system, whose core is industrial control computer. This control system is the most advanced and popular one in the field of industrial control. Based on the characteristics of commercial concrete mixing plant operation, our computer control system could manage and control concrete production in a standardized way.

Model selection

You can select HLS60, HLS80, HLS100, HLS150 and HLS240 model based on your concrete productivity of 60m3/h, 90m3/h,120m3/h, 180m3/h and 240m3/h, respectively.

 3.Technical parameter
Type
HLS60
HLS80(90)
HLS100(120)
HLS150(180)
HLS240
Mixer supplied
JS1000
JS1500
JS2000
JS3000
JS4000
Theoretical productivity (m3/h)
60
90
120
180
 
240
Storage hopper capacity (m3)
3x12
3x12
4x20
4x20
4x40
Lift aggregate
By belt conveyor
Max aggregate size (mm)
Pebble
80
80
80
80
80
Macadam
60
60
60
60
60
Belt conveyor capacity(m3/h)
160
210
320
400
 
600
Discharge height (m)
3.95
3.95
3.95
3.95
3.95
Aggregate measuring accuracy (%)
±2
±2
±2
±2
 
±2
Powder measuring accuracy (%)
±1
±1
±1
±1
 
±1
Water measuring accuracy (%)
±1
±1
±1
±1
 
±1
Additive measuring accuracy (%)
±1
±1
±1
±1
 
±1
Measuring method
Electronic measurement
Electronic measurement
Electronic measurement
Electronic measurement
Electronic measurement
Overall power (kW)
63
82
102
140

 
Overall mass (kg)
18000
22000
24000
33000

 
Overall dimensions (mm)
L
21000
23000
26000

 
26000
W
8000
8000
9000

 
9000
H
7900
8100
9300

 
9600
 

4.What we have 

· Super High Quality

· Competitive Price

· Big Production Ability

· Fast Delivery

· Ten Years' Export Experience

· Excellent Sale and After-sale Service

5.Question

1.How can I trust your machines' quality? 

Our products has been checked and got the certification ISO9001 and CE, our machines have been exported to many countries and always have a good reputation of its quality. What's more, every machine will be tested carefully before shippment,making sure all the machines operate perfectly when it comes to your hand. 

2.What about payment terms? 

-T/T,30% deposit,70% before shipment

-L/C,100% at sight.

For more details ,please contact with us 

3.How long is the guarantee period? 

1 year warranty for machinery parts except consuming parts like tools / knife. During warranty we keep online and local service as you inquiry.

4.What's the customer service/after-sales service?

- Local installation and training

-Providing timely technical support

-Reply within 12 hours.

-Free training in our factory.

-Recall clients regularly ,get feedback in time,keep well communication with each other

 

TENT AIR CONDITIONER (MOBILE COOLING & HEATING AIR CONDITIONER)

Mobile Tent Air Conditioner is a mobile air conditioning unit developed primarily to provide air conditioning in tents, campings, temporary or transportable buildings, or similar fields. To improve the working or living conditions, tent air conditioners, including military use tent air conditioner, mobile Field Hospital air conditioner, relief air conditioner, etc

The unit is designed for outside installation with ducted supply and return air. The function is based on a cooling circuit and two powerful fans. The evaporator section contains the evaporator and a radial fan which draws warm internal air through the cold evaporator and blows out the cooled air through the side of the unit. The condenser section contains two condenser coils and a large axial fan returning the heat from the internal air to the outside. Heating function is also available by an opposite circuit.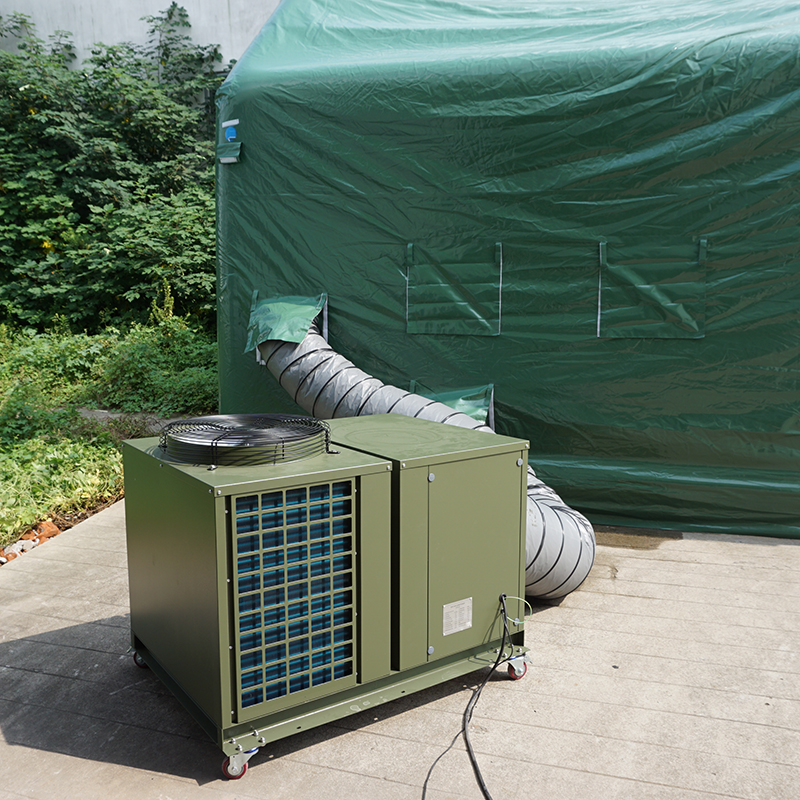 Features:

1) Wheel Kit

Four-wheel kits are equipped as a basic add-on-solution which make the unit to be applied on site without using any tools. The unit can be transported and moved to the optimal position by one or two people easily. The wheel solution enables rapid and easy deployment of the unit but no need forklift sometimes.

2) Flexible installation

All mobile tent air conditioners are easy to adapt to local conditions. The units can be placed outside of the tents, while they can also be placed half inside and half outside. In order to optimize the cooling effect, the units - as well as the ducts - are better to be placed close to the tent with ducts as short as possible on the outside to minimize solar radiation. Solar shielding of the cooling unit and ducts will further increase performance.

3) Heating and cooling from the same unit

The mobile tent cooling and heating units can also be supplied with a built-in heat function. This makes these units especially useful in geographical areas with extreme differences in daytime and night-time temperatures, such as deserts. Extra electric heating accessories are available to ensure the heating performance.

4) Wide Applications

Working area: Tents, Temporary buildings, Accommodation, Military camps, Relief camps, Workcamps (oil and gas industry), Vehicle cabins, Granaries, Event cooling and heating, Emergency cooling, etc

Working Temperature: It can provide cooling at ambient temperatures up to +60℃, and heating down to -15℃.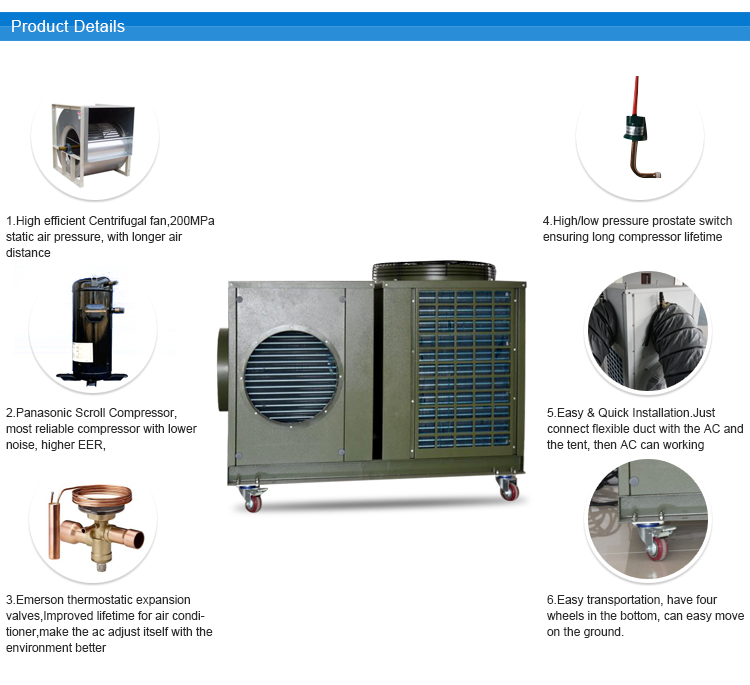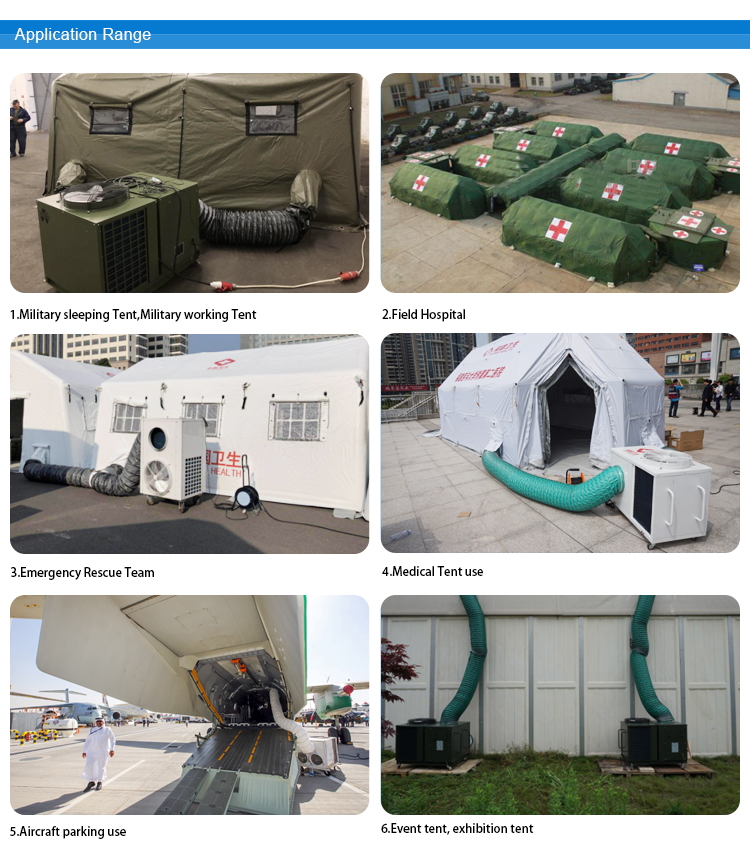 Our Service:

1. OEM Service is available;

2. Customized design is available;

3. Fast delivery time.




Sincerely hope to cooperate with partners from all over the world.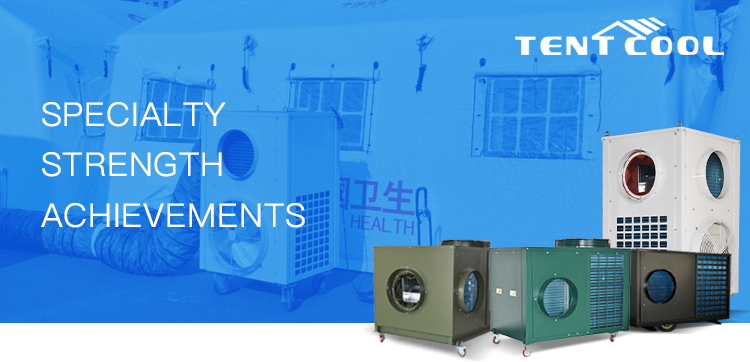 TENTCOOL MOBILE TENT COOLING AND HEATING UNIT

Mobile Tent Air Conditioner,Mobile Cooling and Heating,Tent Air Conditioning Units,Camping Tent Air Conditioner,Portable Tent Air Conditioner

Taizhou Tentcool Electrical Appliance Co., Ltd. , https://www.tentcool.com